VIENNA FOR BEGINNERS AND ADVANCED
During my "wild years" as a student of architecture I longed to see the world, and consequently lived abroad for some time (including Athens for six years). Upon my return I was able to see Vienna with different eyes , and I learnt to appreciate the unique culture and specialities of my hometown. My experience as a freelance artist (ceramics - but no pottery!) meant that the world of fine arts and Vienna's cultural scene opened up early to me. As a collector I also focussed on fine arts.
Since the mid-1990s I have been working as a licenced tour guide in Vienna, and I love to present my city not only in its traditional stereotypes.
Since then my collecting activities have been concentrated on original documents and artefacts relating to the film classic "The Third Man", which was filmed in Vienna in the late 1940s, as well as the pre- and post-war periods in the city. In 2005, I decided to transform my collection into a museum: the Third Man Museum. The museum is managed by two great enthusiasts for the film and the period, one of which is myself. Specialists and generalists, we have created the museum ourselves from scratch. A completely rounded piece of work, with no outsourcing, the Third Man Museum contains much heart and soul. And you can feel it! For detailed information please visit at: THIRD MAN MUSEUM EXKLUSIVE TOUR
As a licenced tour guide I offer a number of original tours - you'll find some suggestions for these on the following pages.
I hope to meet you in person soon!
This is how to contact me:
phone: +43-676-4757818
email: gerhard@special-vienna.com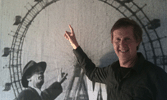 GERHARD
your licenced guide in Vienna
telephone: +43-676-4757818
email: gerhard@special-vienna.com
web: www.special-vienna.com