VIENNA FOR BEGINNERS AND ADVANCED
Coincidence or concept?
Viennese Classic and Viennese Waltz.
The Strauss dynasty and Schubert: genuine Viennese.
Haydn, Mozart, Beethoven, Brahms: Viennese by choice.
The role of music in Vienna: coincidence or concept?
Duration: 2 hours
On foot.
All these tours are suggestions and can be easily combined with each other.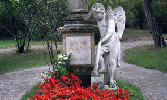 GERHARD
your licenced guide in Vienna
telephone: +43-676-4757818
email: gerhard@special-vienna.com
web: www.special-vienna.com